Portland has a new slogan–"Portland, Maine. Yes. Life's good here."–with an awesome backstory.  The new slogan was announced by city leaders this Tuesday, to mostly positive reviews, the Portland Press Herald reports:
City and business leaders introduced Portland's new slogan Tuesday, saying its simplicity and versatility open up many marketing opportunities.

The new slogan got less favorable reviews from a local marketing firm. And the upbeat line about Portland's quality of life got skewered by droves of Facebook users.

The slogan – "Portland, Maine. Yes. Life's good here." – was inspired by a writer who lived in Portland, and is part of a branding effort the city expects to roll out over this summer. That effort includes a promotional video, which also debuted Tuesday, and other yet-to-be-developed strategies for promoting the city.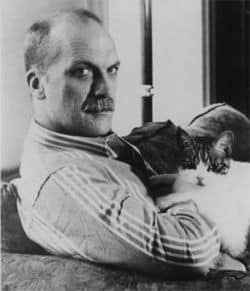 The writer whose words were adapted for the new slogan was John Preston, a gay man who died of AIDS complications in 1994.  A pioneering author of gay fiction and nonfiction, Preston had lived in San Francisco, New York, Minneapolis and other cities before settling in Portland in 1979.  As Press Herald columnist Bill Nemitz wrote this week, Preston penned an essay the year before he died called "Portland, Maine: Life's Good Here":
The title stems from a question Preston was asked repeatedly by his friends in New York City, who couldn't for the life of them figure out what he was doing in a city of 60,000 that looked from the Big Apple like the middle of nowhere.

"Are you ready to come back yet?" his friends would ask.

"No," Preston would reply. "Life's good here."

"I always call it the toy city, because it's so small, but it is a city," he wrote. "It has all the urban accoutrements that keep it from being just a place where a lot of people happen to live — someplace like Manchester, New Hampshire, for example, which has more people but none of the cultured air of Portland."
During his time in Portland, Preston advocated for LGBT rights measures, and was a major force behind the city's Equal Opportunity and Non-Discrimination Ordinance in 1992.  He probably couldn't have imagined that same-sex couples would be able to wed in Maine less than two decades after his death, and that Portland would be among the first communities to issue marriage licenses at 12:01 a.m. on December 29.
(image arsenal pulp press)