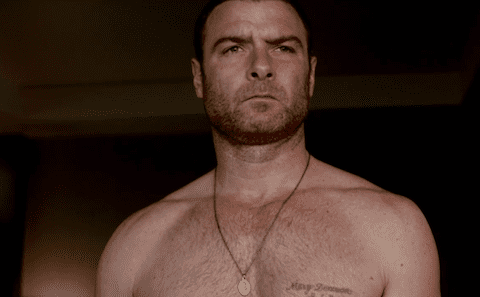 Stop me if you've heard this one before: An aging, straight, white, male antihero must learn to balance his personal shortcomings with a strained marriage, deep-seated family issues and the looming consequences of the mistakes he's made.
In the tradition of Tony Soprano, Walter White and Don Draper, we've got Ray Donovan. Liev Schreiber plays a top Hollywood "fixer" (like a more hands-on Olivia Pope for the celebrity set). He's the kind of Boston-bred tough you don't want to find on the unfriendly end of a baseball bat.
When he's applying his South Boston street smarts to California troubles, Schreiber is smart, sexy and, often, silent. (Another character remarks of Donovan: "You don't talk a lot. I like that.") Gruff and handsome, Schreiber is mesmerizing each time he's on screen. Unfortunately, his presence alone is not enough to rally excitement for the joyless pilot episode premiering Sunday on Showtime.
More, AFTER THE JUMP…
By embedding Ray in Hollywood's dark, messy underbelly, we're subjected to a Tinseltown robbed of its glamour (and much of its fun, really). Humor is supposed to come at the expense of a closeted action hero busted picking up a "tranny hooker." (*MINOR SPOILER*) Instead of owning up to his indiscretion, Ray puts the actor in the hotel room of a girl who just overdosed on drugs. Now, the actor just goes to rehab and no one places him at scene of the prostitute. Ray's partner, Lee Drexler (Peter Jacobson), posits: "Suck one cock, you're a cocksucker for life. Get caught with a dead girl, admit to a drug problem, go to rehab, no problem. Crazy town, right?" Ha?
Rounding out the ensemble is an entire school of fish out of water, as Ray, his wife, kids and two brothers are all South Boston transplants in California. One brother, Terry (Eddie Marsan), suffers from Parkinson's, and younger brother, Bunchy (Dash Mihok), was molested by a priest as a child. (Ray insinuates a connection between the aforementioned closeted actor and molesting children in a way that should make viewers less than comfortable.) There's also a hardened female assistant (The LWord's Katherine Moennig) who wakes up in bed with a woman, but we don't get to spend too much time with her in Sunday's episode.
Paula Malcomson (as Ray's wife, Abby) shows glimmers of a powerful performance in her whole Southie Carmela Soprano schtick. She hasn't been given a ton to do in this first episode other than suffer, but if her previous work on shows like Deadwood are any indication, she could steal the show from Schreiber.
And then, of course, there's Jon Voight.
The patriarch of the Donovan clan is fresh out of prison, and his arrival in Los Angeles appears to be the beginning of Ray's undoing. As he slithers through each scene, his slimy confidence is tinged with just enough threat to make him appropriately unsettling. Voight's visage is the perfect canvas for Mickey Donovan's reptilian menace, and, oddly, his charm.
With such a great cast, one might be inclined to give Ray Donovan a chance to find its footing. However, without a compelling twist on the established antihero conventions, this may be a Hollywood problem not even Donovan could fix.
Ray Donovan premieres Sunday at 10 p.m. on Showtime.