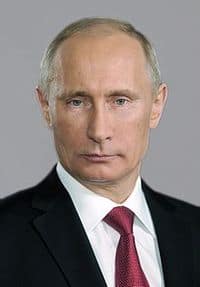 It's a sad day for our LGBT brothers and sisters in Russia. Today, President Vladimir Putin signed into law the disgusting bill banning the promotion of "homosexual propaganda" among minors. RIA Novosti reports:
Gay propaganda with the use of mass media or Internet resources will see harsher penalties of 50,000-100,000 rubles ($1,520-3,050) for individuals, 100,000-200,000 rubles ($3,050-6,115) for officials and 1 million rubles or 90-day suspension for legal entities.
While the law's proponents argue it is aimed at protecting children from harmful influences, critics allege the move is part of a broader crackdown on Russia's gay community.  
Even before the law's passage, international human rights organizations had publicly expressed their concerns that the antigay bill will be used to target openly LGBT Olympians at the 2014 Winter Olympics in Sochi, Russia.
Putin, meanwhile, attempted to downplay accusations of antigay bigotry by claiming sexual minorities are "full fledged members of our society and are not being discriminated against in any way." Putin should tell that to the dozens of gay rights supporters who were arrested at a bloody clash in St. Petersburg yesterday.