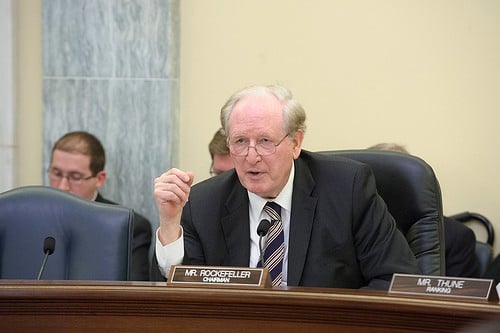 The Employment Non-Discrimination Act is going to need 60 votes to pass the U.S. Senate, and the Washington Blade reports that it's now one vote closer to that threshold:
Sen. Jay Rockefeller (D-W.Va.) has signaled he'll add his name to the growing number of lawmakers who've signed on as co-sponsors of the Employment Non-Discrimination Act — giving it arguably more co-sponsors than any other LGBT bill in history.

In a statement provided to Washington Blade via email, the senior senator from West Virginia confirmed that he signed would become the 52nd U.S. senator to sponsor the anti-LGBT job bias legislation.

"The fact that discrimination is tolerated anywhere in our country needs to be addressed once and for all," Rockefeller said. "The integrity of our nation, and our ability to be a credible global leader on human rights, means that all people must be treated equally under the law."
In just the last week, three other Democratic Senators–Heidi Heitkamp of North Dakota, Tom Carper of Delaware and Majority Leader Harry Reid of Nevada–have come out in favor of the bill.  Reid's official support is seen as an important boost for the bill, since the majority leader rarely co-sponsors bills himself.  Earlier this week, even Gabriel Gomez, the Republican candidate for the open U.S. Senate seat in Massachusetts, announced his support of ENDA.
Only four Democratic Senators remain who have not endorsed ENDA: Joe Manchin of West Virginia, Bill Nelson of Florida, Mark Pryor of Arkansas and Tim Johnson of South Dakota.  Sens. Nelson and Johnson support marriage equality; Sens. Manchin and Pryor do not.
LGBT advocates are pressing hard for a full Senate vote on ENDA this year.  In announcing his co-sponsorship of the legislation, Senate Majority Leader Harry Red simply said that he "look[s] forward to taking up" the bill "soon."