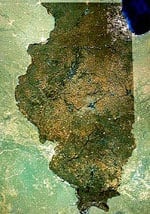 Illinois advocates are not giving up on marriage equality, refreshing the battle with the launch of a new $2 million statewide campaign, the AP reports:
In a statement Tuesday, the group says it will place 15 field organizers throughout the state to engage supporters. They plan to target legislators who oppose a measure to lift Illinois' ban on same-sex marriage.
The Illinois Senate passed the bill in February. It wasn't called for a vote in the House because the bill's sponsor said it didn't have the votes to pass.
Lawmakers could take the bill up again in the fall.
A ruling on same-sex marriage is also pending in court. Earlier this month Lambda Legal and the ACLU filed a motion for summary judgment, requesting a swift ruling in two lawsuits filed by the groups representing a total of 25 same-sex couples seeking the freedom to marry.