Maryland Delegate Heather Mizeur announced today she's running for governor of Maryland, the Baltimore Sun reports: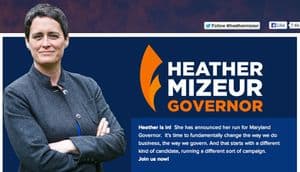 The 40-year-old Montgomery County lawmaker would join Lt. Gov. Anthony G. Brown as an official candidate on the Democratic side in the June 2014 primary. Attorney General Douglas F. Gansler is expected to formally jump into the race in September. Rep. C. A. Dutch Ruppersberger, a Baltimore County Democrat, has said he is considering a run.
If elected, Mizeur would become the first woman in Maryland to serve as governor and the first openly gay governor in the nation. Along with Del. Ron George on the Republican side, she also is trying to achieve what no other member of the Maryland General Assembly has done: win a popular election as governor while serving in the legislature.
In an interview with The Baltimore Sun, Mizeur said she would run a non-traditional campaign that emphasized public-service projects. She said she's planning such activities as repairing a playground in Silver Spring, painting a school in Baltimore and restoring a hiking trail in the Blackwater National Wildlife Refuge outside Cambridge.
Mizeur also spoke with the Washington Blade:
"Diversity is enormously important," she told the Blade. "Not simply to have a gay governor, but to have a governor who can represent the voices of people in communities that have not always had a voice in the process."
…EMILY's List and the Gay and Lesbian Victory Fund are expected to back Mizeur's campaign, but campaign finance reports indicate both Brown and Gansler have a significant fundraising advantage.
Gansler has also been a huge advocate for same-sex marriage in Maryland.