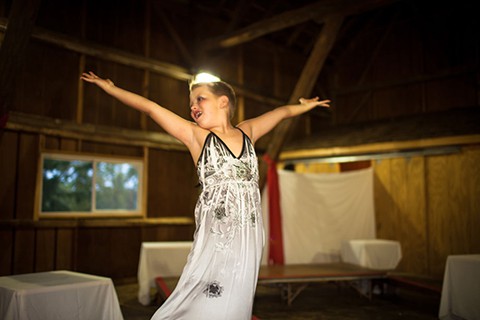 At a four-day camp for gender nonconforming boys and their parents, young boys get the chance to express themselves free of the gendered restraints that are often imposed upon young children. Photographer Libby Morris has unveiled a new series of photographs that documents life at the camp, entitled, "You Are You." The camp celebrates the boys and provides them and their parents a freedom they might not be able to find elsewhere. Slate reports:
"'[The kids] don't have to look over their shoulders, and they can let down their guard. Those are four days when none of that matters, and they are surrounded by family members who support them,' Morris said.
Although it is unknown if the kids at the camp will eventually identify as gay or transgender—or even if the way gender and sexuality are defined throughout society will evolve—the camp allows the kids to look at themselves in a completely different way.
'They get enough questioning in their daily lives, so it's a great place for them to express themselves as they feel. … I feel we hear so many of the sad stories and how LGBT kids are disproportionately affected by bullying, depression, and suicide, and it hangs a heavy cloud over them and kind of dooms them from the beginning. I'm saying this is a new story. This is not a tragedy.'"
Morris hopes to develop her series into a book and exhibition and ultimately create a foundation that would make the camp accessible to children who otherwise might not be able to afford it. She has also expressed interest in following the kids she photographs as they mature:
"I want to witness the evolution, knowing from where they started and see how life is going to play out for them—hopefully happily—and I think they're going to have a better transition into adulthood than the generation proceeding them."
Check out a few more images of Morris' photography AFTER THE JUMP…
(photos: Libby Morris via Slate)