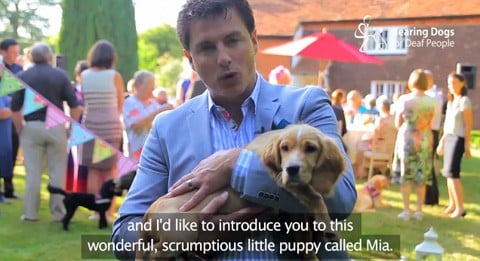 Barrowman speaks out in a new video supporting Hearing Dogs for Deaf People.
Check out the adorable clip, AFTER THE JUMP…
He also praises the Supreme Court decisions on Prop 8. and DOMA, and discussed his decisions to have an impromptu wedding shortly thereafter to his partner of 20 years, Scott Gill, in a new interview with We Love Soaps:
"We always said when the opportunity arose we would go ahead and do it. We just woke up that morning, we had an argument, and then we just decided to do it."
Barrowman also spoke about the secret to longevity in a relationship:
I always say, if life is like a road, or a relationship is, then we have these speed bumps. Every so often they kind of jolt you. If there are any speed bumps in your relationship and life, is it really worth turning around and ruining everything for one little bump (or mistake)? Saying, 'We're going to stop this,' or 'End this, it's no longer valid, blah, blah, blah?' My mom and dad always said that relationships are work; you work at them. If something goes wrong or someone makes a mistake, you have to be able to forgive and forget and move on from it. If you decide to end something because of something stupid – like someone making out with someone at a party because they were drunk – is it really ruining your whole relationship over it, just because of that one little mistake?"