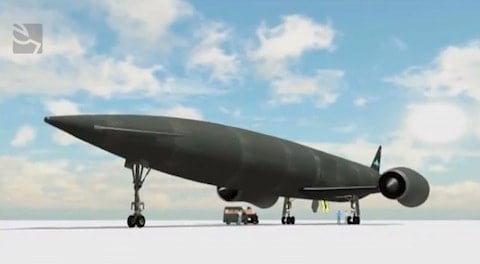 That's the claim being made at Business Insider by chief engineer Alan Bond at Reaction Engines. Unlike Elon Musk's Hyperloop system which combines existing technologies found in Concords, rail guns, and air hockey tables, the "Sabre" jet engine will utilze a brand new technology called a precooler.
The precooler can drop the engine's temperature by 1,000 degrees Celsius in 1/10th of a second, and being able to keep the engine cool means that more power can be exerted, which in turn results in more speed. Bond estimates that the jets would reach speeds of Mach 5 – that is, five times the speed of sound – with relative ease. 
The company's current vision is to enter the air transportation market with a passenger plane that can hold 300 and fly like a rocket, but the $1.1 billion price tag per plane will likely render it accessible to only the extremely well-to-do unless a way of subsidizing the plane's costs can be found.
Test flights are being planned for 2019, and an interview with Bond can be seen AFTER THE JUMP…