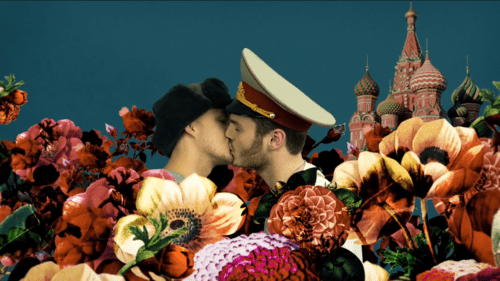 The new music video from Autoheart's debut album, 'Punch,' tells an idyllic gay love story, depicted in the video as a relationship between two Russian officials. The band must have had political commentary in mind when creating the psychedelic, flowery video, and the description on their YouTube page makes their point clear:
Moscow is a song about the daft optimism of being in love, when you just want to run away with that person, dream about being together forever, the house, the dog, and nothing else matters.
We are lucky in Britain to have laws that mean whether we are gay, straight, bisexual or anything in between, our relationships are recognised and our rights protected by law. But in Russia there is an anti-gay crisis happening right now: their government does not want to afford their people those same rights and are trying to criminalise even the discussion of gay equality.
In our video, two gay Russian soldiers kiss in front of the Kremlin — yet just last month same a group of same-sex couples in Moscow were violently attacked and then arrested for doing just this.
The band also has hopes you'll sign a petition aimed at stopping "the crackdown against lesbian, gay, bi and trans people that is fuelling anti-gay violence." Their artistic contribution to the fight for equality on a global scale is exciting, and they pose a question that sums it all up:
Wouldn't it be amazing if one day everyone all consenting adults could be free to love who they want to without fear of persecution?
Autoheart's debut album is available on their website and on iTunes.
Watch (and listen) to the upbeat song, AFTER THE JUMP…