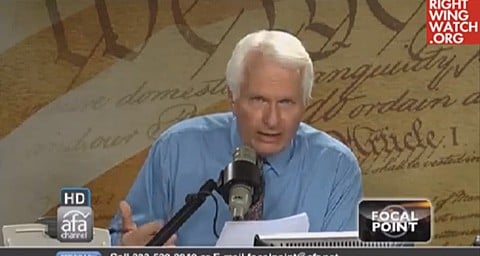 Looks like Virginia Attorney General (and Republican gubernatorial candidate) Ken Cuccinelli has a not-so-surprising ally in his quest to rid the commonwealth of oral and anal sex.  Writing in the Huffington Post, radio host Michelangelo Signorile reports that in a recent interview on his show, American Family Association spokesman Bryan Fischer not only backed Cuccinelli's plan, but also went further, essentially describing it as a necessary public health effort:
In what appeared to be a reference to HPV-related cancers, Fischer said in a conversation with me on SiriusXM Progress that a rise in head, neck and throat cancers "among millennials" is a direct result of the influence of "Bill Clinton and Monica Lewinsky." Throughout the interview, Fischer refused to clearly state what the punishment should be for those who engage in the sexual activity he believes should be banned, alternating between the idea of issuing summonses like "parking tickets" and "speeding tickets"and putting those who engage in oral sex or homosexual sex — which he compared to drug trafficking, pedophilia and bestiality — into something similar to drug rehab, at one point even suggesting an "intervention."
Fischer has brought plenty of crazy to the table before, and he's in fine form in his interview with Signorile.  Asked what he thought about oral and anal sex engaged in by heterosexual individuals, Fischer said, "That kind of sexual activity is destructive to the human body and I don't care who does it.  Let's talk about Bill Clinton and Monica Lewinsky. We now have an epidemic of cancers of the throat and head and neck among millennials"–apparently, if Fischer is to be believed, because they grew up during Clinton's presidency.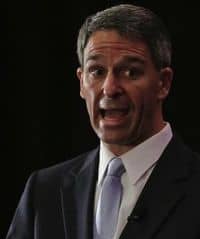 While Fischer's views on uncontroversial sexual practices that are without a doubt taking place across the country every day–and his ideas for punishing them with traffic ticket-like fines or rehab (really!)–might seem far outside the mainstream, Ken Cuccinelli's sodomy law would make different-sex vaginal intercourse the only acceptable form of sex in Virginia.  That means anal sex and oral sex–whether homosexual or heterosexual, and even amongst married couples–would be illegal.
Even more shockingly, after Cuccinelli lost his attempt to revive Virginia's anti-sodomy laws at the Fourth Circuit Court of Appeals in March–which relied explicitly on the Supreme Court's 2003 decision in Lawrence v. Texas invalidating sodomy laws nationwide–the attorney general petitioned the high court to review the decision, in essence asking it to repeal Lawrence.
There's something truly remarkable about the fact that, on this issue at least, there is so little daylight between one of America's most anti-gay voices and the highest law enforcement officer of the nation's 12th most populous state.
If you can stomach it, you can listen to Signorile's full interview with Bryan Fischer, AFTER THE JUMP…