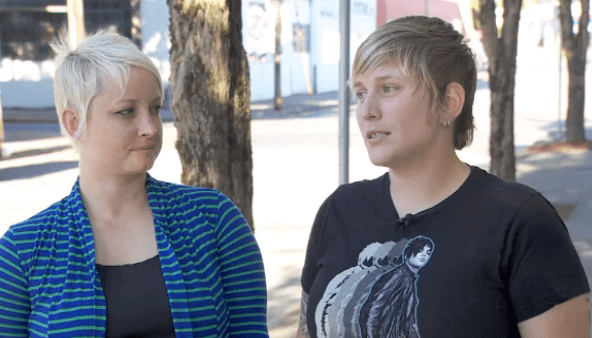 A Portland cab driver has been accused of forcing Kate Neal, Shanko Devoll and one of their friends out of his taxi and stranding the three of them along the side of a dark interstate early Friday morning. The couple claim that a Broadway Cab company driver forced them to get out of his cab after he witnessed the two of them become affectionate. A second cab driver arrived soon after but eventually threw them out of his cab, as well.
KATU11 runs down the events:
"I guess he discovered that we were a couple," Neal said. "We were showing some affection towards each other. And he started shouting some pretty hurtful and homophobic things. And then he proceeded to pull over on the freeway and let us out of the cab. I didn't realize at first what was happening, but the more he yelled, the more clear it became," Neal added.

"When he initially pulled over I said 'I do want to get out of this cab, but I don't want to get out of this cab here," Neal said. "And he would not move farther. We had no choice."

So they got out of the cab – a few miles from home – and were left there alone and in the dark. They said they had every intention of paying their fare, but didn't. "We were planning to pay for a cab ride home – that's why we called a cab," said Neal.

The couple said that a second Broadway Cab showed up, they got in and then that driver kicked them out after speaking with the other driver. At that point, they had to walk. Instead of heading along I-84 with cars and trucks whizzing by, they decided to climb an embankment and scale a fence.

The women said they made it to Northeast 102nd Avenue and flagged down an officer. They said the police officer told them that he had actually been looking for them – that he had been dispatched to find two women who had skipped out on their cab fare.

A Portland Police Bureau spokesman told us this isn't a criminal case, but the officer involved did handle it as a civil matter. "He picked us up and called the cab company and told them that we were not to pay the fare and that he was going to take us home," said Neal. "And he did – he drove us home."
The president of Broadway Cab has issued a statement on the company Facebook page which reads in part: "I would like to take this opportunity to say that Broadway Cab is fully committed to the concept and practice of non-discrimination, equal opportunity, and diversity." Read the full statement here.
The initial driver involved has been suspended and the company has begun an investigation into the incident. The entire ride was apparently videotaped by the cab's security camera and this footage will also be be reviewed.
Watch a King5 news report about the incident, AFTER THE JUMP.