The California Supreme Court has rejected a petition from Prop 8 backers asking it to halt same-sex marriages in California, Bloomberg reports: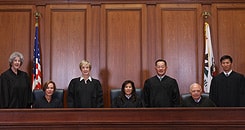 Proposition 8 backers filed a petition July 12 and asked the state's high court to order county clerks to enforce the gay-marriage ban, claiming the measure was still valid because a U.S. Supreme Court ruling last month didn't find it was unconstitutional. They asked for an immediate injunction reinstating the law while the lawsuit is pending.
"The request for an immediate stay or injunctive relief is denied," the court said in a filing today, without giving a reason.
Prop 8 authors made the request last Friday. Legal experts considered its success a long shot.
Buzzfeed has more:
The court on Friday had set a schedule requiring a full briefing on the Proposition 8 supporters' remaining request that the court declare that the trial-court ruling only applies to the four plaintiffs in the litigation brought by the American Foundation for Equal Rights. As such, the supporters of Proposition 8 argue, the trial-court ruling cannot require state officials to stop enforcing Proposition 8.
The opposition to their request is to be filed "in this court on or before Monday, July 22, 2013." The Proposition 8 supporters will then have "until Thursday, August 1, 2013, in which to serve and file a reply to the preliminary opposition."