Senator Ruben Diaz Sr., the only Democrat in the New York State Senate who voted against the marriage equality bill in 2011, has been busy lately supporting evangelical minister Erick Salgado in his long-shot bid to become the next mayor of NYC. While Salgado's fund-raising and name recognition pales in comparison to rival candidates, Diaz has a suggestion that will rocket his candidate to the top of the polls: go gay.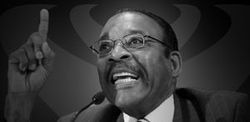 Never shy about speaking his mind, State Senator Ruben Diaz Sr. suggested in his latest missive that long-shot mayoral candidate Erick Salgado could net far more publicity for his campaign if he just declared himself gay, solicited prostitutes, and tweeted photos of his underwear.
'Salgado could declare that he is a homosexual, go to the City Hall Clerk, get a license, marry another man in a public garden, and become the very first male New York City mayoral candidate who is officially married to a man," Mr. Diaz, a booster of Mr. Salgado, wrote in his ongoing series of "What You Should Know" statements.
"If he does this, I am absolutely certain that he will get millions and millions of dollars in free publicity," Mr. Salgado said. 
Diaz later said that Salgado should take a page out of Anthony Weiner's book and "take some photos of himself in his underwear and tweet  them to different young women, lie about it, and then accuse someone of tampering with his Twitter account."