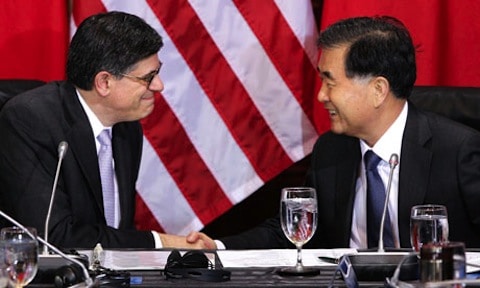 Telling a joke can be a perilous venture even among close friends in a casual environment, so perhaps one of the toughest settings to attempt topical humor would be in an international political setting. Chinese vice-premier, Wang Yang, tried his hand anyways with a gay marriage joke during a high-level meeting in Washington with US Treasury secretary, Jack Lew. It went about as well as one would expect.
According to The Guardian, Wang said about the China-US relationship:
"In China when we say a pair of new people, we mean a newlywed couple. Although US law does permit marriage between two men, I don't think this is what Jacob or I actually want."
Uncomfortable silence and polite smiles ensued. A follow-up joke about divorce and Rupert Murdoch was more warmly received. 
Fortunately, the joke did not seem to have any malicious or homophobic intent, but instead was an attempt at topical humor, conflating the recent Supreme Court decisions regarding DOMA and Prop 8 with a Chinese turn of phrase. However, humor is a difficult art form to master that relies on clever exploitation of nuance, shared knowledge and norms, and expectations. Before his next show Wang should probably take lessons from the writers at Cracked.