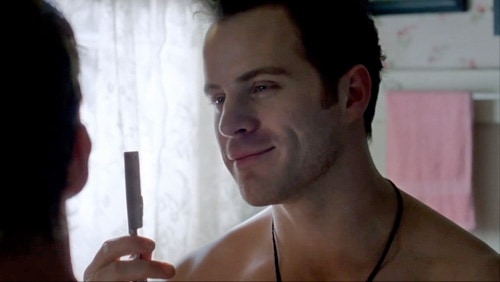 British hunk Robert Kazinsky made quite the debut since his first "True Blood" episode, filming a hot and heavy man-on-man shaving scene with Ryan Kwanten this week and a passionate makeout sesh with Anna Paquin–as her husband and costar Stephen Moyer watched.
Toofab caught up with the actor at the premiere for Guillermo del Toro's "Pacific Rim"–Kazinsky plays one of the pilots of the film's giant robots–to ask about the filming the intimate scenes.  Not surprisingly, it turns out it's much less sexy filming such material than it is watching it.
"That was one of the hardest things I've ever shot in my life," Kazinsky told toofab, "solely because we couldn't keep a straight face. Not for one second."  We're sure you couldn't, Rob.
Check out toofab's video interview with Kazinsky, plus the "True Blood" scene in question, AFTER THE JUMP…