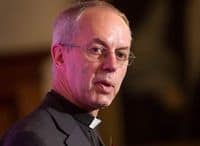 With marriage equality in the United Kingdom now law, the Church of England has found itself in a bit of a pickle in terms of how to address the UK's changing attitude on homosexuality. While the Church has taken positive steps recently, such as its new campaign to combat homophobic bullying in schools across the country, the official doctrine of classifying homosexuality as sin remains firmly in place.
Justin Welby (pictured right), the Archbishop of Canterbury and senior bishop in the Church of England, says that despite the Church's opposition to marriage equality being 'utterly overwhelmed' by vocal supporters, Christian views on same-sex relations should not change. Pink News reports:
"Addressing over 6,000 people at [a Church of England] conference, he said it would be 'foolish' to ignore the 'revolution' of same-sex marriage coming into law in England and Wales.
"He acknowledged that the Marriage (Same Sex Couples) Act, which has now received Royal Assent, had support from all parties, but said that was not enough for Christians to change from their 'obedience to God.'
"Archbishop Welby voted against equal marriage in the House of Lords, and had said he could hear the 'roar of revolution' on listening to debate around the issue.
"The Church of England had opposed the same-sex marriage bill until June, when it said that it accepted that there was a clear majority in Parliament to introduce same-sex marriage and that it would therefore end its opposition to changing the law."