Last Saturday, The Baton Rouge Advocate reported that the East Baton Rouge sheriff's office had arrested over a dozen men since 2011 under a law forbidding "unnatural carnal copulation." In each arrest, undercover cops met men in the park, propositioned them and then arrested the men once they went somewhere private for sex.
Laws criminalizing consensual sex between same-sex partners became unconstitutional in the 2003 Supreme Court decision in Lawrence v. Texas. But even after the initial news report of the arrests, the office of East Baton Rouge Sheriff Sid Gautreaux (pictured) released two (now deleted) Facebook statements explaining that it never set out "to target or embarrass any part of our law-abiding community," and that his office would seek to remove the law from the books and find "alternative ways to deter sexual and lewd activity from our parks," even though no lewd activities had actually taken place.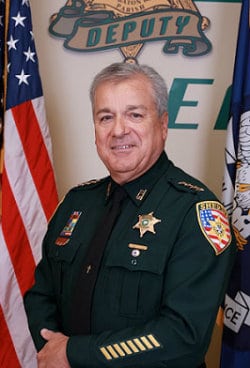 The District Attorney refused to prosecute any of the arrested men for their offenses (citing a lack of evidence that any crime had actually taken place). Subsequently, the Sheriff's initial claim that he had no idea of the law's unconstituionality got him ridiculed by Baton Rouge city councilman John Delgado:
"Does he know that slavery is no longer around?" Delgado asked rhetorically. "Does he know that we have cars and no longer horse and buggies?"
The Sheriff's office has since apologized:
On Monday, Sheriff Sid J. Gautreaux III issued a statement apologizing "to anyone that was unintentionally harmed or offended by the actions of our investigations." The sheriff said that he had instructed his employees to no longer use "this unconstitutional law," and that he was conducting "a comprehensive evaluation of undercover operations made by our deputies and will make changes to ensure better supervision, training and guidance."
The story adds:
In each of the known cases in Baton Rouge, the district attorney's office declined to prosecute, citing a lack of evidence that a crime, like prostitution, had taken place. Gay rights advocates and at least one public official have publicly questioned why sheriff's deputies continued to make such arrests when the district attorney's office had made it clear that such actions were not criminal.
"We need to find out when the sheriff was first informed that the D.A.'s office would not prosecute people under this anti-sodomy law because it's unconstitutional," said John Delgado, a Baton Rouge city councilman…
While Mr. Delgado said those arrested had a strong case for a civil suit, Mr. [Bruce] Parker (head of Equality Louisiana) said some of them were not openly gay when they were arrested and were unlikely to want further publicity.
"Many of their lives were dramatically ruined because of this," he said.
Think Progress points out that 14 U.S. states still have anti-sodomy laws on the books despite their unconstitutionality.