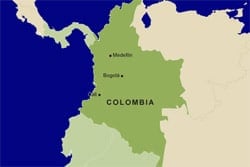 Marriage equality has come to Colombia it appears, in a five-page ruling by Carmen Lucía Rodríguez Díaz, a civil judge in Bogotá, who was petitioned by a gay couple to recognize their relationship under the law. The couple, named Diego and Juan, are expected to marry in a civil ceremony on July 24.
In 2011, the Colombia Constitutional Court ruled that the nation's congress had to provide full legal recognition of same-sex couples by June 20, 2013.
However, the Congress rejected gay marriage legislation in April. Since, the June 20 deadline has passed without any legislation prescribing to how proceed, Colombian gay couples have been confused about how to go about securing legal recognition of their relationships.
(via Blabbeando)