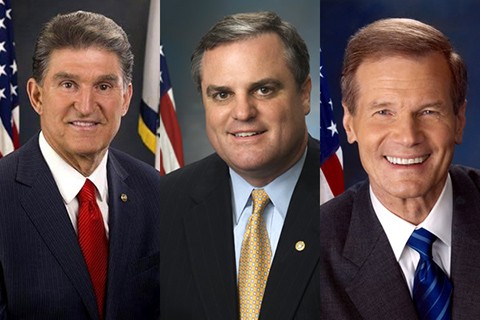 Despite the recent bipartisan endorsement that the current incarnation of the Employment Non-Discrimination Act (ENDA) received from the Senate Health, Education, Labor & Pensions Committee (HELP), The Washington Blade reports that three key Democratic senators, Sens. Joe Manchin (D-W.Va.; pictured above left), Mark Pryor (D-Ark.; above center), and Bill Nelson (D-Fla.; above right), are still holding out on offering their support for the bill:
"Manchin ignored questions from the Blade on how he'll vote on the bill. His response to the final question: 'It's very nice to meet you.'
Pryor was similarly non-committal. Asked whether he was familiar with the legislation, the senator replied, 'I am in concept, but I haven't seen it or read it yet.'
Asked for a sense of how he'll vote on ENDA, Pryor said he needed time to review the bill, adding, 'I'll just have to look at it."
Nelson couldn't be reached on Capitol Hill for a comment on how he'll vote on ENDA. The Florida senator's office — along with the offices of Pryor and Manchin — hasn't responded for six weeks to the Blade's requests for comment on ENDA…
Although the lack of commitment from Pryor and Manchin may not be surprising because they're among the Democrats who don't support marriage equality, Nelson's silence is striking because he supports same-sex marriage. In May 2010, the senator also voted for "Don't Ask, Don't Tell" repeal as a member of the Senate Armed Services Committee even before the Pentagon report on open service came out later that fall."
Many LGBT advocates have called on Senators Nelson, Pryor and Mancin to announce their support for the bill and join as co-sponsors. Tico Almeida, president of Freedom to Work, told the Blade,
"The three holdout Senate Democrats are alienating themselves further from the Democratic Party and ignoring American values of hard work and success with every passing day that they stubbornly refuse to cosponsor the bipartisan ENDA."
White House spokesperson Shin Inouye insisted that administration officials are lobbying the Senate to ensure a successful vote in favor of ENDA.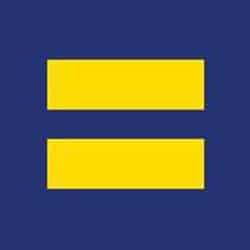 The bill, having advanced out of committee with the support of prominent Republicans such as Sen. Orrin Hatch (Utah), is widely believed to receive an up or down vote after Congress's August recess, according to HELP chairman Sen. Tom Harkin (D-Iowa). Meanwhile the Human Rights campaign has begun a $2 million campaign to rally bipartisan support for ENDA, with plans to engage in "grassroots activities to encourage Republican votes for ENDA in Arizona, Idaho, Indiana, Nevada, New Hampshire, New Jersey, Ohio and Pennsylvania." ENDA's proponents are primarily concerned with mustering 60 yes votes in the Senate thus securing a filibuster-proof super-majority in support of the bill, a de-facto requirement for nearly all Democratic legislation in the Senate since President Obama took office in 2009. LGBT advocates of the bill believe they have a strong message they can pitch to a broad swath of American voters about why passing ENDA is crucial: Americans value "hard work," "fairness," and won't stand for discrimination.
However, should ENDA pass the Senate it faces a steeper uphill battle in the Republican-controlled House of Representatives. Earlier this month, gay co-author of the McCain-Feingold Act, Trevor Porter, suggested that a discharge petition was the surest solution to passing ENDA in the House where some Republican members are expected to have reservations about approving the bill given the protections it provides to individuals discriminated against based on their gender identity.
Though many, including Sen. Hatch, remain pessimistic about ENDA's chances in the House, LGBT advocacy groups are stressing the importance of focusing on winning senate approval before delving into the myriad of complications that await ENDA in the House. Jeff Cook-McCormac, senior adviser to the newly formed Republican-affiliated American Unity Fund, commented:
"Getting the House to move is going to require initial Senate action…I think that the real critical focus for this coalition of business and labor, of the gay community and employers, is building on the overwhelming vote in the Health, Education, Labor & Pensions Committee to get to floor consideration, to get the majority that we need and then to begin to work in a careful and thoughtful way with House Republicans to think through ways that this important measure can be realized."