A controversial federal judge in Arkansas has recused himself from hearing a marriage equality case filed in that state earlier this week. The case challenges the states ban on same-sex marriage.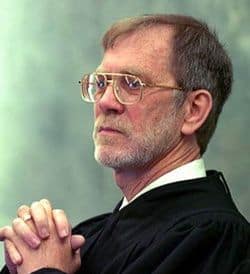 The AP reports:
U.S. District Judge Leon Holmes on Thursday ordered that the lawsuit challenging the ban be assigned to another judge. Holmes cited personal and professional relationships with leaders who drafted and campaigned for the ban that was approved by voters in 2004. Holmes wrote that the relationships developed in 1980s working on issues similar, but not identical, to the gay marriage ban.
The Arkansas Times points out that the one of the "relationships" is likely Jerry Cox, head of the conservative religious group the Arkansas Family Council.
The case will now be handed to Judge Kristine Baker who was appointed by President Barack Obama last year.
The Times also reminds its readers about some of the past controversial things Holmes has written in the past.
Holmes argued in a 1997 article co-written with his wife for a Catholic publication that "the wife is to subordinate herself to her husband." In another article, he incorrectly claimed that "concern for rape victims is a red herring because conceptions from rape occur with approximately the same frequency as snowfall in Miami."
Read Holmes' full order here.
Watch a speech by Holmes at Aquinas College from 2012, AFTER THE JUMP.