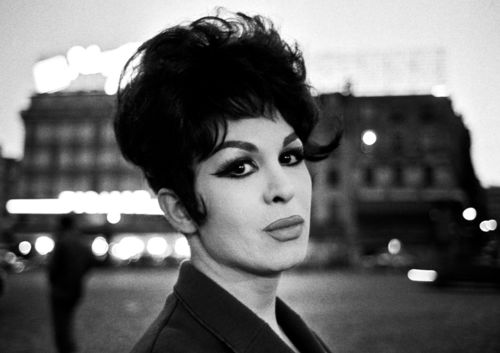 Christer Strömholm, a Swedish photographer living in Paris in the late 1950's, befriended and photographed the transgender communities of the place Pigalle and place Blanche neighborhoods, providing us with a glimpse at life on the margins.  
A little-known Swedish photographer, Christer Strömholm, visited Paris to experiment with a new style of night-time street photography. He immersed himself in the red-light district of Place Blanche where he beautifully captured through his lens the wide variety of young trans women struggling to make a living.
In 1983, Strömholm published his book, Les Amies de Place Blanche, with the photographs from his visit.
Inside he wrote a powerful introduction:
"This is a book about insecurity. A portrayal of those living a different life in the big city of Paris, of people who endured the roughness of the streets."
"This is a book about humiliation, about the smell of whores and night life in cafés."
"This is a book about the quest for self-identity, about the right to live, about the right to own and control one's own body."
…
"These are images of women—biologically born as men—that we call 'transsexuals.' As for me, I call them 'my friends of place Blanche.' This friendship started here, in the early 60s and it still continues."
New attention has been brought to Strömholm's subjects as the photos have been released in a new version of the 1983 book, this time with stories and essays to accompany them.  
The complete collection of photographs can be found here.
Photos courtesy of Buzzfeed (Source:  © C.Strömholm/ Agence VU  /  via: messynessychic.com)