Back in September I posted about April DeBoer and Jayne Rowse, a Detroit couple suing the state of Michigan over its ban on gay adoption, who expanded their lawsuit to take on the state's marriage amendment. In March I reported that Federal Judge Bernard Friedman stayed his decision in the matter until after the Supreme Court ruling on DOMA.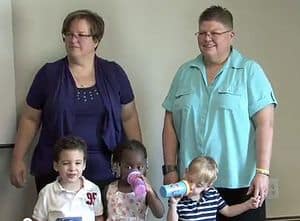 On Monday, Friedman ruled that the couple can proceed with their challenge, Buzzfeed reports:
In reaching the decision, Judge Bernard Friedman cited last week's opinion striking down the federal definition of marriage in the Defense of Marriage Act, writing of April DeBoer and Jayne Rowse's challenge to Michigan's amendment, "The United States Supreme Court's recent decision in United States v. Windsor … has provided the requisite precedential fodder for both parties to this litigation."
On the state side, Friedman noted, "Defendants [including Michigan Gov. Rick Snyder] will no doubt cite to the relevant paragraphs of the majority opinion espousing the state's 'historic and essential authority to define the marital relation,'" presumably as a support for the state's right to define marriage for itself.