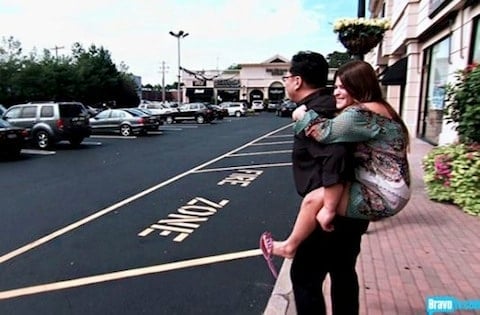 There's a very specific type of non-competition Bravo reality show that chronicles the truly insufferable. Among the usual stories of excess and big personalities are unique studies of characters that are so widely unappealing, it's a wonder they ever make it to air.  
Don't get us wrong, many (some might say most) Bravo reality shows feature characters who are some combination of out of touch, overindulgent or obnoxious (or, in the case of The Real Housewives of Miami's Lea Black, all three). However, most series redeem themselves with even-tempered charmers (The Real Housewives of Beverly Hills' Lisa Vanderpump), self-aware quipsters (Flipping Out's Jeff Lewis) or deliciously compelling drama (season one of The Real Housewives of New Jersey).
Then there are shows like NYC Prep and Gallery Girls, which appear to exist solely to showcase the utterly detestable. 
I'll let you guess how to best categorize Princesses: Long Island, which wraps its first (and, please, let it be only) season Sunday on Bravo. 
Although the ladies of Long Island aren't the most likable, their adventures have been compulsively watchable. After having spent the last several weeks following Amanda, Casey, Chanel, Erica, Joey and (especially) Ashlee as they exist in a world largely devoid of any real consequence or personal responsibility, the epic meltdown that appeared in last Sunday's penultimate episode was immensely gratifying. It may go down in history as one of television's most satisfying sources of schadenfreude ever (trailing just behind Alexis Neiers' sobbing voicemail fiasco on E!'s Pretty Wild). 
Get acquainted with this summer's best show to hate-watch below. We've collected some of this season's most outlandish moments before Sunday's finale, so you'll know what everyone is kvetching about come Monday morning.
More, AFTER THE JUMP…
Right from the beginning, Ashlee rocketed ahead as the most aggressively unlikable character of this bunch. Her proudly-pampered lifestyle was on display when she went for a pedicure with her father in the first episode. Not only did it culminate with Ashlee's refusal to walk in anything other than heels, but then she demanded to be carried out of the salon by an employee (see photo at the top of the post). 
The most fascinating (and tragic) aspect of Princesses is the persistence of their high-school past. For a group of girls in their late-twenties and early-thirties, there is an awful lot of talk about their teenage years. Never was that more at the forefront than when Casey breaks down while confronting Erica about sleeping with her boyfriend when she was 16. 
Sure, holding a grudge over a high school romance for more than 10 years sounds petty, but that's nothing compared to the screaming match — complete with gay slurs — that erupted over who was Facebook friends with Amanda's boyfriend.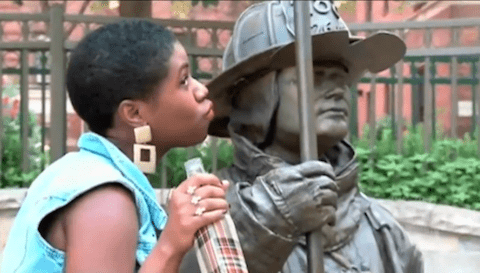 Defiling A 9/11 Memorial Statue
In true reality fashion, some of the girls have completely unnecessary product lines, including Amanda's "Drink Hanky." (It's like a sock for your cup.) To promote the product, she went on a "spontaneous" photoshoot that incorporated a 9/11 memorial statue of a firefighter in a less than respectful way.
It was a perfect Princesses storm. The typically tolerable Chanel was embroiled in an argument with a guest at a party celebrating Amanda's "Drink Hanky." When Joey ignored Ashlee's commands, it triggered a second shouting match. For some reason, it's Joey's use of the phrase "Mama Dukes" that really sets Ashlee off. It's here that the seeds of the fight from last Sunday's breakdown were first sown.
Which Princess: Long Island moments made you cringe?