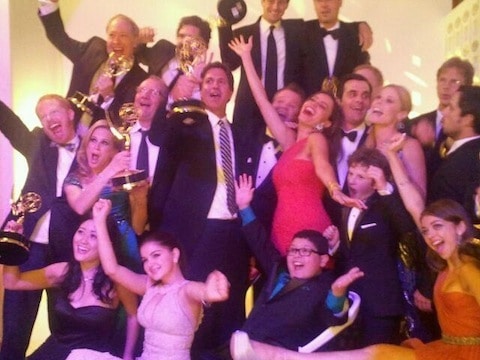 Photo via Twitter
Aaron Paul (Breaking Bad) and Kate Mara (House of Cards) will announce nominations for the 2013 Primetime Emmy Awards tomorrow morning. We'll have the full list of nominees once they are announced, but that doesn't mean we can't start speculating now.
While perennial favorites like Mad Men, Modern Family and 30 Rock are all likely to make an appearance, there are still plenty of wild cards. We've combed critics' perspectives on potential nominees and compiled some insight into a few key questions going into Thursday's announcement. 
More, AFTER THE JUMP…
Is This the Year of Netflix?
This is the first year that, in addition to their robust library of network and cable series, Netflix has debuted original programming. Although the absolutely brilliant Orange Is the New Black is not eligible this year (though watch out, 2014 Emmys), Arrested Development and House of Cards are both likely to score some nods.
Who Is Tatiana Maslany?
Don't be puzzled to find Tatiana Maslany (Orphan Black) on the list here. Though she's a dark horse in the very crowded Lead Actress In a Drama race (expect to see Mad Men's Elisabeth Moss, Homeland's Claire Danes and Scandal's Kerry Washington in there as well), a recent Critics' Choice TV Award win could place the star of this BBC America drama squarely in the sights of Emmy voters.
Surely there are funnier shows than this three-time winner. Bet on catching Girls, 30 Rock and Veep among the nominees, but that still leaves a few slots open. Farewell seasons for 30 Rock and The Office could illicit elicit some honorific votes, but some say the best chance of dethroning Modern Family may be the resurrected Arrested Development.
Will Game of Thrones Make Fantasy Reality?
An uneven season of Mad Men, Downton Abbey's lame ender and Homeland's increasingly tenuous grasp on believability has opened the door for buzzy new series like House of Cards, The Americans and Orphan Black to swoop in. Still, there's a good chance Game of Thrones will ultimately be crowned the victor here. Fans' feverish reaction across social media to a particularly memorable turn in the back half of the most recent season proved this fantasy series has transcended from cult favorite to bona fide phenomenon.
Can Mindy Kaling break in?
Like Tina Fey (30 Rock) and Lena Dunham (Girls), Mindy Kaling (The Mindy Project) is a lead actress, writer and producer of her own show. Folks are hoping she can snag a lead comedy actress spot from either of her fellow triple threats, or potential nominees Edie Falco (Nurse Jackie), Amy Poehler (Parks and Recreation) and Julia Louis-Dreyfus (Veep).
What are your dream Emmy nominees?