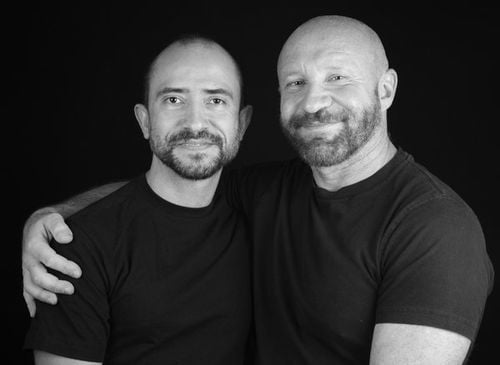 Shortly after the Supreme Court rulings, we reported that the door was now open for gay binational couples to apply for permanent resident visas, aka Green Cards. Now, for the first time ever, the U.S. government has made the approval: a Green Card has been issued to Traian Popov, a Bulgarian man married to Florida-based club DJ Julian Marsh, the NYT reports:
The notice of approval of a permanent visa, known as a green card, was issued by e-mail late Friday to Traian Popov, a Bulgarian immigrant who lives with his American spouse, Julian Marsh, in Fort Lauderdale, Fla. The approval was evidence that the Obama administration was acting swiftly to change its visa policies in the wake of the court's decision on Wednesday invalidating the Defense of Marriage Act, or DOMA.
The approval came so fast that it took the couple's immigration lawyer, Lavi Soloway, by surprise. Mr. Soloway, who represents many same-sex couples, said he received the official message while he was attending the annual conference in San Francisco of the American Immigration Lawyers Association.
"I thought, 'Am I reading this wrong?' " Mr. Soloway said in an interview on Saturday. Although it was a professional setting, he said, he began to weep with emotion when he realized the significance of the notice.
Julian and Traian met in March 5, 2011 at a friend's home in Florida. Within a week, they had a second run-in at another friend's house and began dating shortly thereafter. "I met him, I fell in love, and that was it," says Julian. They married in Brooklyn, New York in October 2012, because of the connections both have had to New York City and because their home state of Florida does not permit same-sex couples to marry. Traian ("Tray") Popov has been a student in the United States since 1998 and is currently pursuing a PhD in Conflicts Analysis and Resolution. Julian Marsh is an internationally acclaimed DJ and music producer.
As one of the binational couples participating in The DOMA Project, Julian, a U.S. citizen, filed an I-130 Petition for his husband Traian on February 13th, 2013. Notification of the approval of his petition arrived by e-mail on Friday from USCIS within just two days of the Supreme Court ruling. June 28th was also, coincidentally, Julian's birthday.
Soloway has been a tireless advocate for immigration rights for gay binational couples. These must be heady days, indeed. We thank him for his work and congratulate all those couples who can finally be with the person they love.