Concern over criminal penalties for gay couples applying for a marriage license in Indiana is unwarranted and overblown, says native Hoosier Jerame Davis: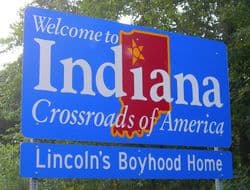 The consternation for this law is coming about because of a change in how Indiana processes marriage applications. As part of an overall effort to modernize and digitize all state public records, Indiana has been switching – county by county – to a digital marriage license application form.
On the digital form, there are specific gender designators for male and female that cannot be changed. Previously, on the paper form, one could mark out male or female and write in the appropriate gender to make the form correct. On a digital version, this isn't possible.
So, some enterprising reporter put two-and-two together and wrote up a story about how there was a new law (no, it's an updated law that only changed the penalties) that would criminalize the act of any same-sex couple who filled out the electronic form because they would, by default, have to lie about the gender of one of the applicants.
Here's where it gets confusing for most folks, including the reporter who wrote the original piece: the law specifically criminalizes "knowingly providing false information" – in other words, when there is an intent to defraud the state, you have committed a crime. As several Indiana lawyers, including my friend and fellow blogger, Doug Masson, have pointed out, the simple act of writing (male – not female) or (female – not male) after your name should suffice to make your intent clear.
Of course, same-sex marriage is not legal in Indiana anyway.