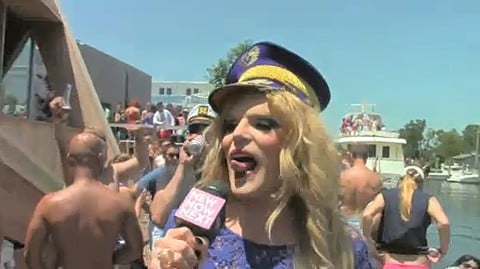 Drag Race's Willam Belli was on location at the biggest drag gathering on the East Coast, the annual Independence Day invasion of Fire Island Pines.
It's a celebration of the original drag-queen invasion in 1976, when a fleet of queens sailed from the Grove to the Pines when one of their number was refused service.
As they have for nearly 4o years, the hordes arrived by ferry and sashay down the runway one by one on the pool deck. We saw Hedda Lettuce, homages to Paula Deen and the Kardashian clan, and more than a few girls that beggar description. And the festivities were especially festive this year with the opening of the brand-new Pavilion, the center of nightlife in the Pines.
Watch, AFTER THE JUMP…