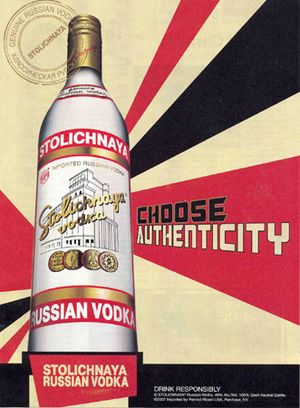 Even now, human rights and LGBT advocates are protesting Russian vodka, the chief target of which appears to be Stolichnaya and its parent company, SPI Group. SPI CEO Val Mendeleev has already expressed the company's support of the LGBT community and decried the protests, a statement that was already elicited harsh rebuttals from the likes of Dan Savage and Queer Nation. Mendeleev subsequently seized a recent opportunity to address the boycott again and elaborate on his company's support in an interview with XM Progress. 
Mendeleev described himself as an "ex-Russian" in the interview, considering that he left the country 20 years ago. He used the same term to describe SPI's owner, Yuri Scheffler, and insisted that they both oppose Russian president Vladimir Putin, as well as the country's anti-gay policies. He maintained that SPI is "not a Russian company," highlighting the fact that the company is headquartered in Luxembourg, and only operates one distillery in Russia. He did admit that the company does use Russian ingredients, However, he said that the company is looking into other sources, but that will unfortunately take time. "We produce more than 100,000 bottles of Stoli every day…It's not so easy to shift production immediately."
To bolster his arguments, Mendeleev highlighted the fact that Stoli and SPI have been in contest over ownership of the brand for over ten years:
"We were forced to move our headquarters from Russia about 10 years ago. And this is because we have ongoing litigation with the Russian government about the ownership of the brand. So, we're not a friend of the Russian government. We are not a Russian company. Stoli is not even allowed to be sold in Russia… [The Russian government] did manage to grab up the Russian Stoli brand and they have been trying to grab up the ownership of the global brand. But the international courts in London and Switzerland understand that this commercial dispute with the Russian government has political motives. Yuri Scheffler, in early 2000, when this whole thing started, was supporting political opposition to the new government that was installed there, and that basically started the whole dispute."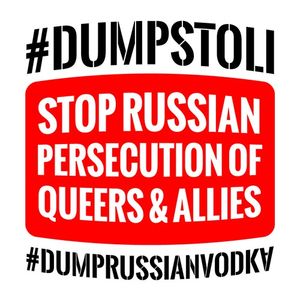 You can even look at the label, he points out, which now reads "premium" vodka instead of "Russian" vodka, a change that took place in 2007. Mendeleev also used the interview as an opportunity to announce his company's decision to donate money to an unspecified group on behalf of Russian LGBT citizens and their allies. The current anti-gay propaganda law makes it challenging for SPI to simply donate to one or more LGBT organizations, especially since many have been forced to go underground. But, as he points out:
"I've been giving interviews, some of them in Russia, emphasizing our position, that we are upset by the lack of tolerance in Russia and the law limiting rights. But at the same time, we're now analyzing the best way to influence this in Russia. Probably we will identify a global or local charity that knows better than us how to tackle the issue and influence the issue in Russia. And we'll support it financially."
Mendeleev also made sure to mention his company's nondiscrimination policy and domestic partner benefits, which he uses to emphasize one final point– that SPI and Stoli are the true victims in this situation. 
"Stoli has been a friend of the LGBT community and has been an opponent of the Russian government. Stoli was singled out by the community with which we associated in a way that we don't believe was appropriate. If you look at our relationship with the Russian government, we've been boycotted by the Russian government for the past 10 years. We've been threatened, raided. And now we are being boycotted by the LGBT community."
Listen to the full interview (via HuffPost Gay Voices) AFTER THE JUMP…