A Louisiana official is drafting a proposal to limit the types of flags that can be flown on government property after hearing complaints about a gay pride flag being hoisted temporarily in a local park. ThinkProgress reports: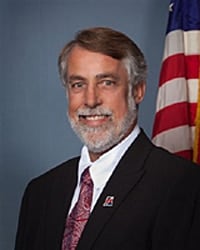 In celebration of National Pride Month and the demise of the Defense of Marriage Act last month, members of the LGBT community in Lafayette, Louisiana gathered in Girard Park for the annual Pride in the Park celebration. Local paper The Daily Advertiser was there to cover the event, and ran a photo in the next day's paper of participants hoisting the rainbow flag that has come to represent the LGBT community.
Ray Green, a veteran of the Korean War, saw the photograph and brought it to the attention of Andy Naquin (pictured), a City-Parish councilman, who is now drafting legislation that would outlaw the flying of the rainbow flag – and any other non-government flag – in any public venue. 
Green, who served in the Korean War, told the paper that he found the flag offensive and an insult to fellow servicemen.
"I did not go overseas and fight for our country so that we could come back and be subject to something like that," Green said. "Several of us (veterans) feel that the flying of this flag is a poke in the eye of a way of life."
Apparently Mr. Green is unaware of the thousands of gay veterans who have fought bravely for this country as well.