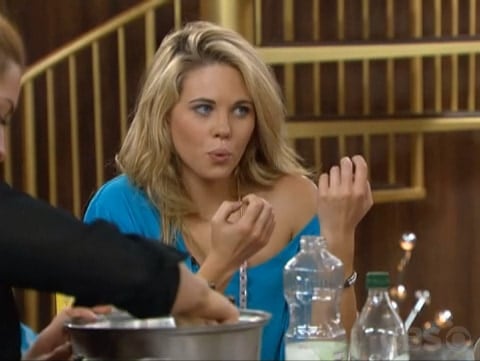 Last week, Kyler reported that Big Brother contestants Aaryn Gries, a 22-year-old Texas college student and GinaMarie Zimmerman, a 32-year-old New York pageant coordinator, have both been fired from their respective jobs outside of the game after a conversation between the two of them on the unaired 'live feeds', laced with racist and homophobic slurs, made its way to the web.
On last night's episode, CBS finally aired a segment of some of the racist and homophobic remarks made by Gries in what many are hoping is the beginning of a trend to expose the real-life views of some of the show's players.
Among Gries' comments are her comments about the gay contestant Andy: "no one's going to vote for whoever that queer puts up."
Gries also comments about an Asian contestant, Helen: "go make some rice."…"I probably look like a squinty Asian right now….Why you no have boyfriend? It's because you don't want long nail!"
The segment also includes a snippet from Zimmerman: "Candice is already on the dark side because she's already dark."
Watch the segment, AFTER THE JUMP….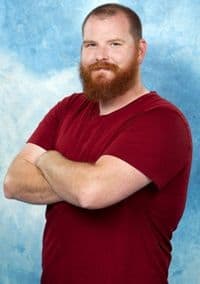 Another contestant, Spencer Clawson, a conductor for Union Pacific railroad, is now facing real-world consequences for his homophobic and pro-Hitler remarks on the show, TMZ reports:
Clawson has been captured on "BB" cams calling one houseguest "Kermit the F**" and praising Hitler as a gifted speaker.
Clawson serves as a railroad conductor for Union Pacific, who released a statement on their website saying, "The values represented by Spencer Clawson's comments during the Big Brother show do not at all align with Union Pacific's values."
They continued, "Mr. Clawson is on unpaid leave of absence while participating on Big Brother. Union Pacific does not condone his comments."
They ended their statement by saying they are "acting in accordance with Collective Bargaining Agreement terms regarding Mr. Clawson" … which sounds like they are setting the stage to fire his ass first chance they get.
According to Tumblr users chronicling the dialogue on the live feeds, Spencer has also said about gay contestant Andy: "Of all the hate crimes that happen in the US, why couldn't one happen to that guy?"
Watch CBS Big Brother's segment from last night on the racist, homophobic slurs, AFTER THE JUMP…