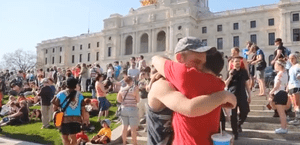 The countdown has begun for same-sex couples in Minnesota. At the strike of midnight this upcoming Thursday, August 1, Minnesota will officially become the 13th state to legalize marriage equality. According to Star Tribune, preparations have begun at courthouses and city halls in major cities across the state, and marriage equality advocates could not be more pleased. "All these years, we have been used to two words: tolerance and acceptance," said Gary Lundstrom, who will be marrying his partner in Duluth at 7 AM on the first. "We are told to be grateful. But that's like only accepting crumbs off the table. Now we have a seat at the banquet."
Meanwhile, in Bloomington, the famous Mall of America will play host to one of the state's first gay weddings in its "Chapel of Love. Holli Bartelt and Amy Petrich, who have been with each other for two year according to AP, recently got engaged at the mall in one of the photo booths. They have scheduled their vows for 12:01 AM on Thursday. Their wedding is just one of the many festivities taking off just as the clock strikes midnight. Star Tribune also tells of another midnight festivity taking place in Duluth…
"On Thursday, John Goldfine, vice chairman of ZMC Hotels in Duluth, will host a free midnight wedding party there when same-sex marriage becomes legal. Goldfine, who was ordained decades ago 'during the hippie days,' is offering to officiate at same-sex weddings on Thursday."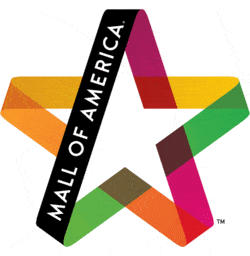 Many gay couples from neighboring North Dakota are also making their way into Minnesota's borders, even though marriage equality currently remains outside their grasp in their home state. 
"In Polk County, where 31,000 residents are spread across nearly 2,000 acres along the North Dakota border, plans are taking shape for a handful of midnight marriages at Crookston, the county seat."
Minnesota finally passed their marriage equality bill this past May after overcoming a prior ban, and has already started issuing marriage licenses since early June, weeks before the U.S. Supreme Court dismissed Prop. 8 and gutted DOMA. With so many victories taking place for LGBT couples and their families in recent months, many are still having trouble believing that the day is finally arriving. "It's still sinking in. We can get married," said Any Theis of Minneapolis. Her soon-to-be-spouse told Star Tribune:
"It was something I never thought we would have, and now to have that security and ability to express that love is amazing. We are now a part of the community and the community is a part of us and our lives."
You can see Star Tribune's full report and watch their video HERE.