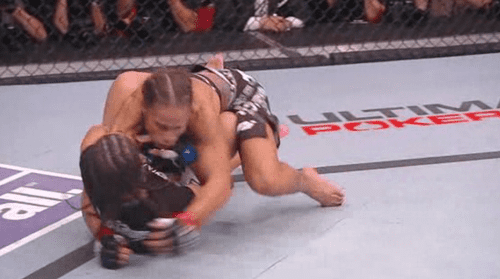 Saturday's televised match between Carmouche and Jessica Andrade marked a few firsts. It marked the first televised women's bantam-weight match, as well as the first UFC match between two openly-gay fighters. 
Earlier this week, both fighters recognized the groundbreaking nature of the match. Andrade told reporters via a translator:
"I hope this is opening doors for other people to be open about who they are and how they feel. We want to show everybody that we're not different from anybody else. Whatever you sexual orientation is, it doesn't affect how you work or who you are or what you do."
Along those same lines, Carmouche noted that the two women's orientation was not as big a deal as some might make it out to be:
"I do think it's great. It shouldn't be a focus on our sexual preference. It's not who we are as fighters. It's just an aspect of who we are as people. It's nice to finally drift away from that."
Carmouche's victory came via a TKO in the second round, according to Fox Sports. 
"Carmouche spent much of the first round locked in a guillotine choke, however, Andrade never was able to ratchet it down before time expired in the first…From there, it was all Carmouche. She pummeled Andrade with punches and nearly had a couple of submissions before the bout was stopped with a minute left in the second."
You can watch their video coverage of the match AFTER THE JUMP…