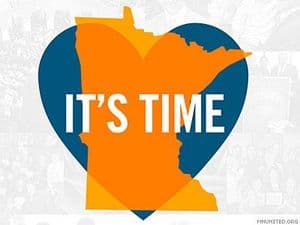 The stroke of midnight on Thursday, August 1st, will mark the beginning for marriage equality in two new states: Minnesota and Rhode Island. Now that the time is just hours away, LGBT residents, supporters, and opponents are scrambling in the last few hours to make their goals a reality. 
Minnesota Public Radio reports that the City Hall of Minneapolis will be "hosting an extravaganza at City Hall tonight where Mayor R.T. Rybak will officiate at the marriage of 42 same-sex couples." The term "extravaganza" refers not only to the marathon of same-sex marriage, but the lavish celebration afterwards that will reportedly "stretch well into Thursday morning," and include "performances by local musicians, a brass quintet and a reception at the nearby Hotel Minneapolis." Rybak staffer Andy Holmaas told MPR about how the celebration comes partially as the result of an outpouring of generosity from community members and businesses alike. "People have been bending over backwards at the slightest ask — an unbelievable outpouring," he said. "It's not surprising, but it's still really inspiring to see Minneapolis and the whole region just jump on board to do everything they can."
Midnight ceremonies are also planned at the courthouses of Minnesota's Polk and Clay counties. St. Paul has one scheduled to take place at the Como Park Zoo and Conservatory. Mall of America will also be hosting its first same-sex wedding celebration at the Chapel of Love at 12:01. More ceremonies are scheduled to take place across the state later on in the morning, with many couples opting to say their vows with the added pleasure of daylight. 
As was noted by MPR, Minnesota's ultimate embrace of marriage equality comes riding the tide of a rapid shift in public opinion. Not only did the state ban same-sex unions at one point, but one prior attempt to repeal the ban died when the measure was sent to voters for approval:
"After a divisive campaign that spurred many…to activism, Minnesota voters rejected the measure in November 2012 and gave the DFL control of both houses of the Legislature as well as the governor's office. Earlier this year, lawmakers approved legalizing same-sex marriage, and Gov. Mark Dayton signed the measure into law on May 14."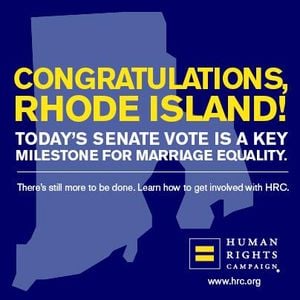 Meanwhile, in Rhode Island, city and town clerks have already been preparing to issue licenses, and have also fielded a high volume of calls from couples who were either interested in marriage licenses, or simply unsure as to the legal situation regarding their own union. The Providence Journal reports that:
"Providence and Pawtucket appeared to be the busiest as the Aug. 1 date approaches, with at least 7 couples taking advantage of a pre-registration period in Providence and more than 10 people calling with questions in Pawtucket. The questions have dealt with everything from what's needed to get a marriage license to what a couple with a civil union has to do to marry to whether a couple that married elsewhere can marry here in Rhode Island."
Thanks to the new law, those wishing to apply for a license and get married, be they from inside or out of the state, will be able to do so. Those wishing to go from a civil union to a legal marriage have two options. They can either opt to have another ceremony declaring themselves legally married, or they can have their existing civil union license "merged" into a marriage license, eliminating the need for a ceremony. 
One of the first same-sex marriages in Rhode Island will take place in Providence, where State Rep. Frank Ferri, D-Warwick, will wed husband Tony Caparco once again. The two were married in Vancouver in 2006, but opted to have another ceremony to celebrate their legislative victory. Their ceremony will be officiated by House Speaker Gordon D. Fox, who championed the state's new same-sex marriage legislation.
Same-sex marriage ceremonies in Rhode Island will begin tomorrow in spite of a legal challenge that was filed yesterday in a Providence Superior Court. The challenge comes via Ronald L'Heureux, a cofounder of the Faith Alliance to Preserve the Sanctity of Marriage as Defined by God. L'Heureux brought with him a petition and complaint in an attempt to obtain a restraining order and stop the marriages. Luckily, Judge Daniel A. Procaccini promptly denied the request, and instead opted to schedule a hearing for August 9th. When asked exactly why he wished to obtain a temporary restraining order against all of the state's same-sex couples, the L'Heureux, who chose to represent himself, argued that same-sex couples would be violating the religious liberties of himself and others by having their unions recognized in the public sphere. "It violates the Constitution and causes irreparable harm, and once it passes they're going to teach my children and grandchildren conduct that's reprehensible to my faith," he said in court.
Towleroad wishes to congratulate those couples who will be tying the knot tomorrow in the two states. 13 down…37 to go.