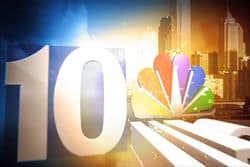 NBC 10 Philadelphia is finding itself in the crosshairs of LGBT organizations after the affiliate "sensationalized and inaccurately reported" a story surrounding a trans woman's murder. The victim, who was brutally murdered and dismembered last week, was identified by the affiliate using the wrong pronouns and name. The reporter, Nefertiti Jaquez, also chose to include irrelevant information regarding the victim's past, including completely unrelated prior criminal convictions, as well as a former mugshot. According to GLAAD, the report even "included the victim-blaming suggestion that Ms. Williams was murdered following the supposed 'discovery' that she was transgender."
The story first broke last week via trans advocate Monica Roberts and her blog TransGriot.
"One of the reasons we're getting more combative about insisting on respectful media coverage for transpeople is because potential jurors that watch these misgendering and sensationalized reports are being poisoned with this slanted anti-trans coverage that could result in the murder victim at trial not getting justice and the alleged killer going free.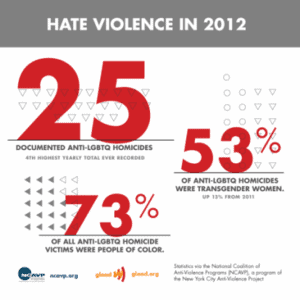 It then subsequently caught the attention of GLAAD, who chose to reach out to NBC 10 and give them an opportunity to correct the error. They report that the station has removed the offending clip from their website, but have still chosen to incorporate the victim's prior name and mugshot. 
Unfortunately, as GLAAD subsequently pointed out, such practice is startlingly common. 
"Recently the National Coalition of Anti-Violence Programs (NCAVP) released its annual Hate Violence Report. Findings for the 2012 calendar year show that in 53% of anti-LGBTQ homicides, the victims were transgender women. Additionally 73% of all anti-LGBTQ homicide victims were people of color. Just this past April, three transgender women of color were murdered. These crimes often go unreported in the media and when media outlets do cover the stories, the reports are often dehumanizing and disrespectful."
To combat this, GLAAD has created a guide for journalists to use when covering stories about transgender people, such as proper terminology, name and pronoun usage, and a brief explanation as to why usage of proper language is so important. GLAAD is also asking anyone who comes across a defamatory report to please let them know at www.glaad.org/reportdefamation.