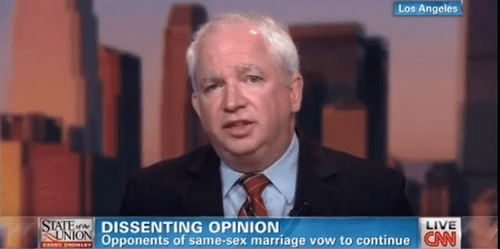 National Organization for Marriage Chairman John Eastman went on CNN's State of the Union yesterday morning to rant against–ahem, discuss–last week's Supreme Court rulings on marriage equality.  Suffice it to say, he is not happy:
Well, it is a state-by-state battle, and I think he had one aspect of the state-by-state battle that is legitimate, which is to try and persuade people to make this change through their legislatures.  But he had a threat behind that: if the legislatures don't do that, we're going to have the courts impose this on them whether the people want it or not.  

Earlier you said that 12 states had voted to change the definition of marriage.  Well that's not true.  Half of them have–less than half of them have; the others have had it imposed on them by the courts.  This question is clearly not answered in the Constitution of the United States, and we are manufacturing a right to redefine marriage and impose it no matter whether the state or the country wants to have that definition.  That's judicial tyranny.
For a law professor (he teaches at Chapman University School of Law), Eastman doesn't seem to have all that much respect for the judicial process.  
You can watch his full remarks to Candy Crowley, in all their glory, AFTER THE JUMP…