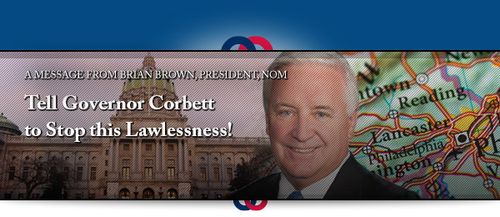 Not surprisingly, NOM president Brian Brown is "outraged" by the recent decision by Montgomery County officials to issue marriage licenses to same-sex couples in spite of there being a ban in place in the state constitution. 
"The Montgomery County Register of Wills, D. Bruce Hanes, who issues marriage licenses for the county, has decided that he — a county bureaucrat — has the authority to unilaterally rewrite Pennsylvania marriage law. Who does he think he is? The job of enacting laws belong to the legislature and the governor, not county bureaucrats. It's absolute lawlessness in Montgomery County, and it must stop — today! (original emphasis kept)." 
Brown claims that "this goes way beyond marriage — it undermines the rule of law," and calls the decision made by Montgomery County Register of Wills D. Bruce Hanes "sheer legal madness". The post on NOM Blog also includes a link to send a pre-written message to Governor Tom Corbett "demanding that he put a stop to it right away," either by email or printed letter. It also begs, at the bottom, for supporters to "use the buttons below to forward this email and share it on Facebook and Twitter so that all pro-marriage Pennsylvanians can speak up about this outrage in Montgomery County!"