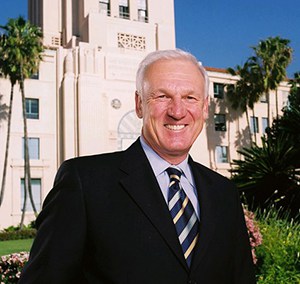 San Diego Supervisor Ron Roberts announced yesterday that Ernest J. Dronenburg, the San Diego County Clerk who recently asked the California Supreme Court to halt gay marriages state-wide, will be the subject of a special meeting of the county's board of supervisors to be held next week. Roberts said in a statement posted on Facebook,
As Assessor/Recorder/County Clerk, Ernest Dronenburg is an independently elected official. I strongly disagree with his decision to file this lawsuit and his subsequent public statements. He is acting on his own, without any direction or consultation from the Board of Supervisors, which was made clear last Friday in a statement I issued and a joint statement on behalf of the entire Board. We will be reviewing this matter with county attorneys during a closed session next week.
Perhaps of particular concern to the board is the question of whether Dronenburg violated the County's
Administrative Code of ordinances by hiring Charles LiMandri of Rancho Santa Fe, a vocal supporter of Prop. 8., to represent his
petition before the court when the code states that only the County Counsel can be hired for legal services
that serve "county purposes." According to The San Diego Union-Tribune, Dronenburg insists
that because San Diego's County Counsel Tom Montgomery rejected his
initial petition it was permissible for him to seek outside counsel.
Dronenburg claims his main motivation in filing suit is to seek clarification from the high court as to
whether Judge Vaughn Walker's 2010 ruling, currently the preeminent
ruling following the US Supreme Court's dismissal of Hollingsworth v.
Perry on the grounds of
standing, has the power to amend the California Constitution by way of
overriding Proposition 8 when, according to Dronenburg, only an appellate court
has the power to change the state constitution. However, Susan Jester,
president of the Log Cabin Republicans of San Diego, may have said it best:
"Hiring Charles LiMandri for clarification of this issue would be like
sending the fox into the henhouse to count the chicken and the eggs. His
job is to implement the law, not to try to change it."
Perhaps even more difficult to reconcile with what we know about this is case is Dronenburg's assertion that he has the best interests of
LGBT Californians at heart. According to the Union-Tribune,
"[Dronenburg] said his intention was to protect same-sex couples from
the possible disappointment of having their marriages voided if a future
court decision affirms the validity of Prop. 8. 'I asked for a stay
because I believe it's cruel to set up people,' he said. Dronenburg
recalled that in 2004, San Francisco Mayor Gavin Newsom instructed city
officials to issue marriage licenses to same-sex couples, and then the
state Supreme Court ordered the city to stop such marriages after almost
4,000 licenses had been issued."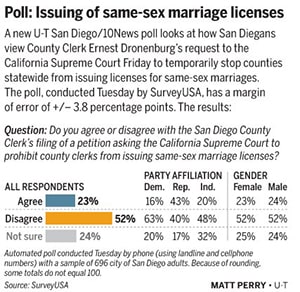 Nonetheless, Dronenburg has been widely panned for his actions. A new poll released by the Union-Tribune shows a majority
(52%) of San Diegans oppose Dronenburg's efforts to prohibit same-sex
couples from getting married. Dronenburg's decision to get involved in this issue came as a surprise to some. VoiceofSanDiego.org reports that in his 2010 campaign for county clerk, Dronenburg pledged that if, "Prop. 8 is ultimately negated, his office [would] treat same-sex couples with respect and dignity." Many in San Diego have also felt that Dronenburg's actions have cast a pall over the city's once glistening reputation as a bastion of bipartisan support for LGBT rights and equality.