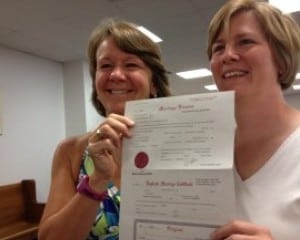 Pennsylvania is currently the only Northeastern state with a same-sex marriage ban on the books. Although you would never know it if you were to attend the wedding of Alicia Terrizzi and Loreen Bloodgood, or apply for a marriage license in Montgomery County, just outside of Philadelphia. Terrizzi and Bloodgood are one of two couples who have been granted marriage licenses in the county after it decided to defy Pennsylvania's same-sex marriage ban. The country Register of Wills has also said that he will approve any other same-sex couples applying for a marriage license.
The two licenses come just one day after Montgomery County officials announced that they are willing to grant marriage licenses to same-sex couples yesterday. Montgomery County Register of Wills D. Bruce Hanes, an independently elected Democrat, told reporters that he wishes to be "on the right side of history and the law." He also cited Windsor v. United States, the Supreme Court case that gutted DOMA, as well as the ACLU's current suit in federal court to overturn Pennsylvania's same-sex marriage ban, a case that Pennsylvania Attorney General Kathleen Kane has announced that she will not defend. Hanes told reporters that he was actually willing to grant the first same-sex marriage license in Pennsylvania's history one day prior, but that the couple applying decided to withdraw their application after speaking with lawyers from the ACLU. 
Molly Tack-Hooper, a spokesperson for the ACLU, noted that this is not the first time that a county has defied a state's same-sex marriage ban:
"We know how it has played out in a few other states; we don't know how it might turn out in Pennsylvania. Gay and lesbian couples seeking marriage licenses in Montgomery County should be aware that there might be uncertainty about the legal statuses of those marriages for a while because unfortunately in other states, governments have later invalidated the marriages."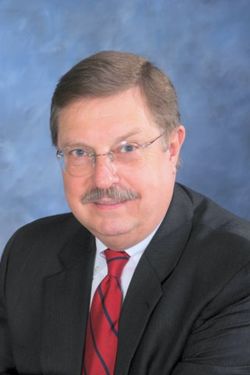 It is not yet clear whether the same thing will happen to these two couples. Pennsylvania governor Tom Corbett has not yet announced whether he will defend the lawsuit, and has refused to comment thus far. Hanes also maintains that "I have no knowledge of anything prohibiting me from doing it. If another couple came to me I would treat them exactly the same. I would approve it." The American Family Association of Pennsylvania did offer an opinion, however, written by president Diane Gramley, and addressed Hanes directly.
"Montgomery County's Register of Wills is an attorney, thus should know the law, and as an elected row officer he has sworn to uphold the law. Apparently he is following the lead of Attorney General Kathleen Kane who has said she would not defend Pennsylvania's Defense of Marriage Act even though the job she was elected to fill includes defending the laws of the Commonwealth. If he can't uphold the law and issue marriage licenses only to those who can legally marry in Pennsylvania, he needs to tender his resignation." 
County Commission Chairman Josh Shapiro told the press that "marriage equality will come to Pennsylvania. He says it's just a question of how long it will take." He also said that he is willing to defend Hanes' decision in court. Meanwhile, Alicia Terrizzi told reporters that she and her new spouse, Bloodgood, were not looking to be pioneers by getting married. Instead, they "simply want to take advantage of the opportunity offered by Montgomery County officials."