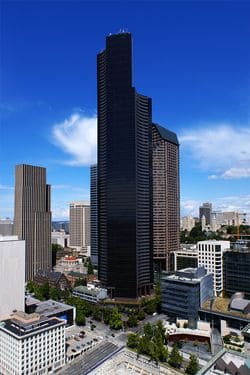 If you can read this article, then it is safe to assume that you're not currently sitting inside Seattle's 76-story Columbia Center. If you did, you would receive the error message pictured above (courtesy of The Stranger). Such would be the case if you were to also try to access other gay-themed sites such as Joe. My. God. and the It Gets Better Project. 
Slog first broke the story after receiving a tip from a reader. This reader was apparently visiting the Columbia Center when they tried to use the building's free wi-fi to check a few gay-themed sites and blogs. He was, instead, met with the error message above. 
"This is a known 'Sexual Orientation' web site which is blocked as specified by your web content filtering policy."
It is not yet known exactly why the "web content filtering policy" chose to include LGBT-oriented sites. Slog has made multiple attempts to contact CAC Group, the commercial real estate company responsible for managing the Columbia Center, and submit requests for comment. So far, CAC has not given any sort of answer.