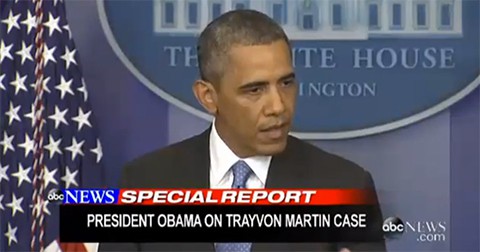 In a broad-ranging statement given to reporters on Friday, President Obama spoke about Trayvon Martin and reactions to George Zimmerman's acquittal for the first time since the jury in the high-profile case reached its verdict last weekend, The Washington Post reports. Recalling his own reaction to first hearing of Trayvon's death, the President remarked:
"When Trayvon Martin was first shot I said that this could have been my son. Another way of saying that is that Trayvon Martin could have been me 35 years ago. When you think about in the African-American community, there's a lot of pain around this. It's important to recognize that the African-American community is looking at this issue through a set of experiences and a history that doesn't go away. And I don't want to exaggerate this, but those sets of experiences inform how the African-American community interprets what happened one night in Florida. And it's inescapable for people to bring those experiences to bear."
Drawing further comparison between himself and Travyon, the President stated, "There are very few African-African men who haven't had the experience of being followed in a department store. That includes me."
Throughout his remarks, the President remained focused on "where do we take this." He mentioned that Eric Holder was reviewing the case but brought the attention back to potential policy initiatives and called for an examination of local and state laws such as the "stand your ground" laws:
"And for those who resist that idea that we should think about something like the stand your ground laws I just ask people to consider if Trayvon Martin was of age and armed could he have stood his ground on that sidewalk? And do we actually think that he would have been justified in shooting Mr. Zimmerman who had followed him in a car because he felt threatened?  And if the answer to that question is at least ambiguous it seems to me that we might want to examine those kinds of laws."
The President also mentioned that he and First Lady Michelle Obama have spent a lot of time, "thinking about how to bolster and reinforce African-American kids. There are a lot of kids out there that need help, that are getting a lot of negative reinforcement."
Hitting a hopeful note the President reflected on his belief that race relations in this country continue to improve with each generation:
"Looking at his daughters Sasha and Malia with their friends, Obama remarked, 'They're better than we are, they're better than we were, on these issues. And that's true at every community I've visited across this country.'
'We should also have confidence that kids these days I think have more sense than we did back then, and certainly more than our parents did or our grandparents did. And along this long journey, we're becoming a more perfect union, not a perfect union, but a more perfect union.'"
Watch two clips of the President's remarks, from CNN and ABC respectively, AFTER THE JUMP…