A campaign to overturn Ohio's ban on same-sex marriage began officially today, and former Attorney General Jim Petro was on hand to offer his support, the Columbus Dispatch reports: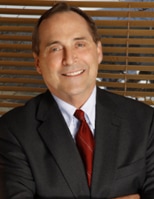 Petro, a Republican who also served as auditor and ran unsuccessfully for governor in 2006, appeared at a news conference this morning with officials from FreedomOhio, the group collecting signatures to put the issue on the Nov. 2014 ballot.
He said when asked to support gay marriage, he "quickly and without hesitation said "I'm all for it."
According to the Dispatch, "Petro switched his position after his daughter, Corbin, legally married a woman in Massachusetts."
In realy June, national LGBT groups Human Rights Campaign, Equality Ohio, the National Gay & Lesbian Task Force, National Freedom to Marry, the Gill Action Fund, the American Unity Fund and the BISC distanced themselves from FreedomOhio's efforts to repeal the ban after organizer Ian James told the Dispatch that the groups were in agreement about 2014 as the date for the ballot repeal effort. The groups said there was no agreement on any specific date.
385,245 valid signatures of registered Ohio voters must be collected from at least 44 of 88 counties on a petition by July 3, 2014, in order to qualify for the ballot.