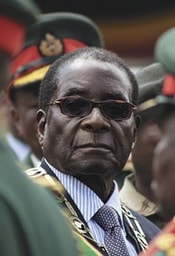 As parties begin their campaigns for this month's Zimbabwe general election, President Robert Mugabe added to his extensive list of antigay attacks while addressing a crowd of supporters in Harare's Highfield township.
"I should like to shut them-up in some room and see if they get pregnant; if they don't then its jail because they have claimed they can have children. So, to that kind of rot, we say no, no, no, no!"
New Zimbabwe reports that the president also fiercely criticized both U.S. president Barack Obama and the Anglican Church for their recent public support of same-sex couples, apparently laughing repeatedly while he did so. Not content with simply criticizing same-sex couples for their supposed indecency, Mugabe even went so far as to "address" gay and lesbian couples directly…
"Women are also engaged in this vile activity. We have some claiming to be men but what is it that makes you a man… Show us your manhood; you want to make other women your wives and you the husband? Well, that is madness; we refuse to accept that."
These comments are simply part of an extensive list of homophobic remarks that the Zimbabwean president has made since he was first elected in 1980. Mugabe has previously claimed that gay men pose a threat to women's rights, condemned the "gay filth" of European culture, as well as threatened the U.K.'s prime minister over their support of same-sex couples.