Under the freshly minted anti-gay 'propaganda' law, a group of six gay rights activists in Moscow were detained by police on Wednesday for 'promoting non-traditional sex relations' at an unauthorized rally, RIA Novosti reports: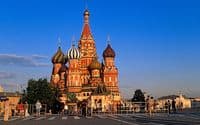 The Moscow Gay Pride movement decided to hold a public event outside the Russian State Children's Library 'to offer minors unbiased information about the nature of homosexuality' and to 'draw public attention to homophobic and discriminatory treatment of underage gays and lesbians,' the GayRussia website said.
After a request to hold the rally was rejected by City Hall on grounds that the event would violate Russia's ban on homosexual propaganda, activist Alexei Davydov decided to hold a so-called one-person picket, which, according to Russian legislation, does not require prior approval by city authorities. Davydov was detained by police shortly after he unfurled a poster that said, "Being gay is normal," near an entrance to the children's library. Five other activists accompanying him were also detained.
The city's police press service said that the 'suspects' are scheduled to appear in court at a later date, which 'will determine the measure of their responsibility.'
Interestingly enough, Russian articles about the detained activists bear the following disclaimer: "This article contains information not suitable for readers younger than 18 years of age, according to Russian legislation"
Previously, 'First Tourists Arrested Under Russia's Anti-Gay Law; Russian Bishop Claims Same-Sex Marriage Is 'Sign Of The Apocalypse" [tlrd]
"Meet The Four Dutch Citizens Arrested Under Russia's New Anti-Gay Law" [tlrd]