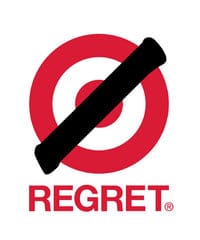 Many probably still remember the ensuing controversy when it was revealed in 2010 that Target Corporation donated $150,000 to a PAC that supported homophobic Minnesota gubernatorial candidate Tom Emmer. The company subsequently revised its corporate giving policies, and even launched a series of Gay Pride shirts in an attempt to restore its gay-friendly reputation. Unfortunately, it looks as though the company will have to conduct more damage-control, since Right Wing Watch is reporting that the company "contributed $50,000 to the Republican Governors Association, which so far this year has spent nearly $3 million on behalf of [Ken] Cuccinelli's gubernatorial campaign." Towleroad readers may remember Cuccinelli as the homophobic attorney general from Virginia with an extensive history of homophobic remarks, and who wishes to reinstate a "Crimes Against Nature Law" in the state.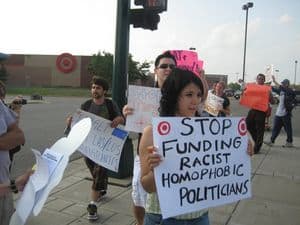 It is worth noting that Target Corp. also made the same donation to the Democratic Governors Association, which is throwing its weight behind Democratic candidate Terry McAuliffe. Right Wing Watch referred to the move as "equal opportunity influence-buy[ing]." Nevertheless, this indirect support of such a fiercely anti-gay candidate does call into question a previous promise by CEO Gregg Steinhafel to promote "a dialogue focused on diversity and inclusion in the workplace, including GLBT issues," or a statement made last year by the company that it is "100 percent committed to the goal of families being respected in all communities including parents who happen to be LGBT."
This year, Target Corp. scored a perfect 100 on the HRC's Corporate Equality Index, a grade that will almost certainly suffer as a result of this donation. Thus far, the retail giant has yet to release a statement or comment addressing this most recent controversial donation.