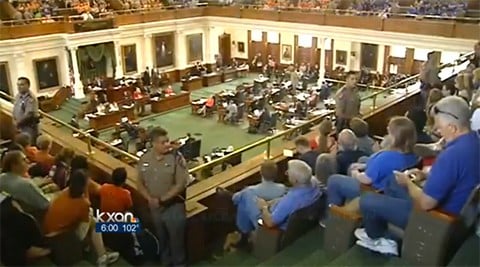 Just before midnight on Friday the Texas Senate, by a vote of 19 to 11, passed HB 2, the controversial abortion bill that has garnered the nation's attention over the past month, and sent it to the desk of Governor Rick Perry for his signature. The New York Times reports:
"The bill would ban abortions after 20 weeks of pregnancy and hold
abortion clinics to the same standards as hospital-style surgical
centers, among other requirements. Its supporters say that the
strengthened regulations for the structures and doctors will protect
women's health; opponents argue that the restrictions are actually
intended to put financial pressure on the clinics that perform abortions
and will force most of them to shut their doors."
Despite the bill's recent failure in a special legislative session held for the purpose to review and ultimately pass the bill, thanks to the filibuster by State Senator Wendy Davis, Governor Perry made clear his intention to schedule another special session and the bill was widely expected to pass in the Republican controlled Senate. With that in mind, many Democrats attempted to amend the bill's more egregious elements but to no avail, as The Texas Tribune points out:
"Democrats offered 20 amendments, ranging from proposals to
add exceptions to the bill's 20-week abortion ban for victims of rape
and incest to requiring annual inspections of abortion facilities and
allowing teen mothers to be excluded from a state law requiring parental
consent for family planning services. All were rejected on party-line
votes in a debate that lasted until nearly midnight on Friday."
State Senator Davis, who many speculate will seek her state's highest office in 2014's gubernatorial election, has vowed not to give up the fight:  
"We all believe in the beauty and the wonder of human life. The fight for the future of Texas is
just beginning."