Loree Rudd, the sister of newly-elected and second-time Australian PM Kevin Rudd, says she thinks Australia should introduce a ban on "gay propaganda" like Russia, which she just visisted, News Limited Network reports: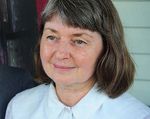 "It's like he (Putin) can see the problem ahead," Ms Rudd, 62, who has just returned from a visit to Russia, said.
"I think that there should be a law (in Australia) protecting children from the propaganda of homosexuality as normal. They're trying to build their family life and structure in Russia and people in the West don't seem to understand our family life and structures are breaking down. I guess the bottom line, if there's one thing I can say that can't be challenged, it's that society needs to protect its children as best they can."
You may recall that Loree Rudd quit the Australian Labor Party in 2011 over its support for marriage equality. Kevin Rudd came out for marriage equality earlier this year.