Summer television schedules can leave much to be desired. If you've already caught up with last season's best television, and you're still staring at a mostly empty DVR, consider digging a little deeper into some past beloved series. Beat the heat this holiday weekend by pouring yourself a mojito and spending a little time in air conditioning binge-watching the best TV shows Netflix has to offer. 
We've combed Netflix's massive library, and here are our top picks to suit any mood.
More, AFTER THE JUMP…
If you're looking for …
 … a workplace comedy with brains: Parks and Recreation
This 30-minute ensemble comedy starring Amy Poehler (Saturday Night Live) and Adam Scott (Party Down) delivers big laughs alongside plenty of heart. For a show about politics, Parks and Rec manages to avoid snark and cynicism. Instead, the cast — which also includes Aziz Ansari, Chris Pratt, Rob Lowe, Nick Offerman and Aubrey Plaza — wrings jokes out of the lovable quirks embedded in their characters.
Alternative: Tina Fey's 30 Rock reinvented the genre with a legendary sitcom that's spawned some of the most memorable characters and gags ever on television.
… teenage drama with a twist: Teen Wolf
If you're seeking the most shirtless hunks per capita, look no further.  Sure, it's True Blood for One Direction fans, but just because the supernatural drama is easy on the eyes, doesn't mean it's totally torture for your brain. The writing here is sharp enough to make you forget you're watching a show from MTV.
Alternative: Pretty Little Liars offers mystery that's one part Jawbreaker and one part Degrassi: The Next Generation.
… something to blow your mind: Lost
Often imitated, but yet to be replaced, this serialized drama succeeded where so many of derivative shows failed. (R.I.P. FlashForward, The Event, Terra Nova.) Not only did the series break ground in delivering an epic, sprawling, sci-fi mystery, but it also paved the way for so many other series to advocate for the opportunity to negotiate a set end-date so that they can adequately tell their stories. Fans are still debating the merits of the series' ending, so there's no time like the present to form your opinion.
Alternative: Get weird with David Lynch's classic Twin Peaks.
… handsome space crusaders: Torchwood
A spin-off of Doctor Who, this series follows Captain Jack Harkness (John Barrowman) as he and his team of alien-hunters complete their work for the Torchwood Institute. Aimed at a more adult audience, the show has a darker tone, as well as a deeper exploration of Captain Jack's bisexuality.
Alternative: Despite being kid-friendly, the long-running Doctor Who successfully executes some of the most rich, complex storytelling across any genre.
 … a reason to laugh until it hurts: Portlandia
Comedy duo Fred Armisen (Saturday Night Live) and Carrie Brownstein (guitarist for legendary punk back Sleater-Kinney) deliver biting satire that cut straight to the bone of contemporary hipster culture. With sights sharply set on the citizens of Portland, Oregon, their commentary could easily be applied to Los Angeles, Brooklyn, Austin and many other hip locales.
Alternative: The recently released, Netflix-exclusive fourth season of Arrested Development starts out slow, but reveals its brilliance as viewers hit the halfway point. It's well worth sticking with.
… a nostalgic teenage experience: Freaks and Geeks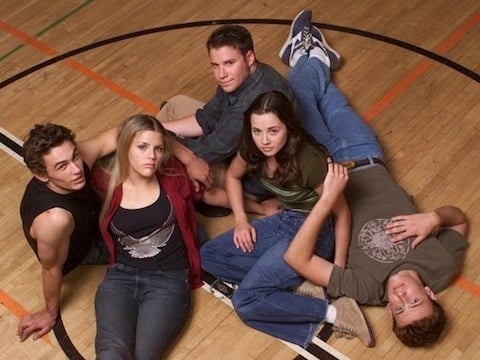 It helped launch the careers of James Franco, Seth Rogen, Jason Segel, Busy Philipps and Judd Apatow. This cult favorite, canceled before its first season even finished airing, follows two groups of high school students in the year 1980. 
Alternative: Instead of a show from the 2000s about growing up in the '80s, kick it old-school with a show from the '80s about growing up in the '60s, The Wonder Years. 
… current critical darlings: Mad Men
We've made no secret about our love for AMC's dense drama. As the show gets ready to embark on its final season in 2014, start getting up to speed on what many believe to be the best television shows of all time. The series first two seasons are particularly slow burns, but it's easy to get immersed in the gorgeous set design and costumes.
Alternative: Catch up with Breaking Bad before it launches the second half of its final season this August.
… an animated show for grown-ups: Archer
It looks like a Roy Lichtenstein painting come to life, and it sounds like a naughty version of Get Smart. This spy comedy has very modern sensibilities under a cool, retro aesthetic. Not to mention it's got Arrested Development's brilliant Jessica Walter (as Mallory Archer) doing an even more over-the-top take on a booze-soaked, overbearing mother. Plus, there's great voice work done by Aisha Tyler, Judy Greer and Chris Parnell.
Alternative: Bob's Burgers showcases so many hilarious performances from outstanding comedians (John Roberts, Kristen Schaal, Eugene Mirman, Sarah Silverman, and still more) it deserves its own Earwolf podcast.
What are your favorite shows on Netflix to marathon?