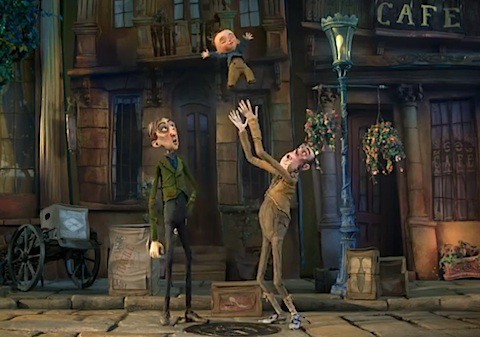 The new trailer for The Boxtrolls, from the creator of Paranorman, features a gay family, The Hollywood Reporter reports:
"Sometimes there's a mother," the narrator intones. "Sometimes there's a father. Sometimes there's a father and a father. Sometimes both fathers are mothers." Eventually, the little boy is spirited down a sewer by a friendly crew of crated monsters.
"Families come in all shapes and sizes," says the narrator. "Even rectangles."
That this decidedly upbeat and inclusive message should arrive on the most eventful week in gay rights history — one that saw both DOMA and Prop 8 struck down by the U.S. Supreme Court — is just a happy bit of happenstance for Laika, the rare mainstream studio to incorporate gay-positive depictions in their family films.
For Travis Knight, the 39-year-old president and CEO of Laika and an accomplished stop-motion animator in his own right, finding stories that send kids the right kinds of messages — and not necessarily the safest ones — is a top priority.
Watch teh trailer, AFTER THE JUMP…