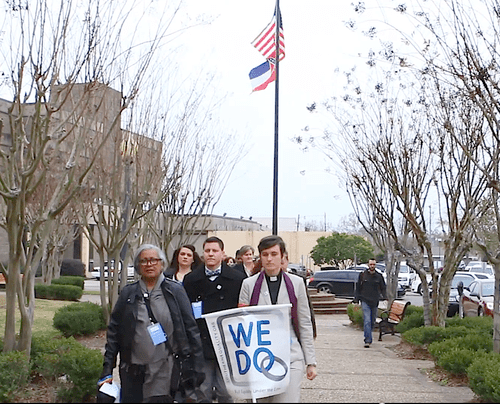 Earlier this year, we reported on five gay couples who were denied marriage licenses in Mississippi as part of a demonstration by the Campaign for Southern Equality's "We Do" campaign. Since that time, the group has been organizing an expansive road trip across the Deep South to speak out for equality. This week, the group is back in the state many consider the most openly hostile to LGBT Americans.
But why Mississippi, a state where the constitutional ban on same-sex marriage was approved by a staggering 86% of voters in 2004? Why choose Mississippi, where The New York Times estimated that support for marriage equality by 2016 will be just 31.5%, the lowest in the nation?
"Sometimes, when you're looking at bigotry and discrimination, you have to scratch the surface a little bit, and shine some light on it – the way you do an infection – let it breath, to cure it," said the Revered Jasmine Beach Ferrarra, the Campaign for Southern Equality's executive director, in a new video that deftly answers that very question.
Then there's the fact that more than a quarter of same-sex couples living in Mississippi are raising children, the group discovered. That's the highest percentage of LGBT parents in any state in the union.  
Ferrarra says that when touring southern states, many people ask her: "Why don't you just move to New York or Iowa?" Her response is that "the solution to the discrimination we face is not to move." With the Campaign for Southern Equality, she hopes that people will learn to stay, stand up, and fight the battle directly.
Check out a video of their work, AFTER THE JUMP…